International Moving Companies - Overseas Shipping
International Moving Companies - Overseas Shipping
An overseas move or relocation is a particularly complicated process, therefore many choose to use professional international moving companies. There is the need to pack everything for air or ocean transportation, there is a great deal of documentation that must accompany even the most ordinary household goods, there will be the need to get all of the goods to and from their transportation locations, and then the usual unpacking in the new home which can be affordably done by international moving companies.
What are the processes involved in an overseas move? Generally, it is the wisest choice to hire international moving companies to help with the many needs of transporting an entire household from one continent, or country, to another. Usually, the international movers will assign an agent to help you and your family assess your actual international moving and shipping needs. For example, when moving from the United States to a European country using international moving companies, you may need to determine the need to relocate items such as personal libraries and books, electronics which may not be compatible in European locations, pianos, and large or cumbersome possessions. Such goods may be candidates for long-term storage, an option often offered by affordable moving companies, or even for sale.
Qualified international movers will also work with you to determine the best method of sending the possessions overseas or to their new location. Currently, the two primary options are air or sea vessels. Many people are instantly challenged by the choice between sea or air transportation presented to them by cheap international moving companies, and the wide range in costs usually makes most lean towards the sea cargo option. While it will usually be much less expensive to have household goods transported in large cargo boats, this may not be the best choice for you. If, for example, the new home is all ready furnished, the move is temporary, or the you do not have a great many possessions, air cargo may be the wiser choice. This method commonly used by international moving companies can deliver possessions much more quickly, and will not require a trip to coastal cargo dock in order to claim the goods from a ship.
Additionally, regardless of the method of transportation selected, there will be the need to deal with the customs office and regulations of the destination country. The international moving companies shown above will generally handle the majority of this documentation for you, making them an invaluable asset to you and your family during the process of relocating to another country.
HomeBulletin.net provides free quotes from international moving companies and overseas relocation specialists to assist you with your international move. Whether you are moving from New York to Shanghai, they can assist you and your family and make relocating easy.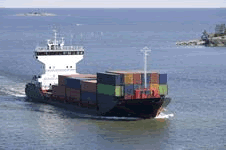 Find international movers in your state
AK | AL | AR | AZ | CA | CO | CT | DE | DC | FL | GA | HI | IA | ID | IL | IN | KS | KY | LA | MA |
MD | ME | MI | MN | MO | MS | MT | NC | ND | NE | NH | NJ | NM | NV | NY | OH | OK | OR | PA |
RI | SC | SD | TN | TX | UT | VT | VA | WA | WI | WV | WY